Joseph Samuel Siragusa
6 April 1936 - 30 March 1980
A Letter Home
Almost a year to the day after he enlisted in the United States Air Force, my father found himself over 3,700 miles from his hometown of Watertown, New York. A new, life changing experience was well under way as the 18-year-old sat down to write his parents from the port city of Bremerhaven, Germany.
It was the 4th of March, 1955, and after nine days at sea, he had just arrived in the country that had been literally divided by the Cold War. In the letter he joked "that Atlantic is no pond!" and noted that it was stormy every day aboard the transport ship General William O. Darby. He worked as a baker's helper during the voyage and marvelled at the White Cliffs of Dover as they neared their final destination.
"Tomorrow night I am taking a train to Sembach," he wrote describing his new assignment, "where I will be for 36 months. Dad didn't think I would be over here that long." Sembach Air Base served as a front line NATO air base, home to the 66th Tactical Reconnaissance Wing. Training was over, and service to his country had begun.
Home was on his mind as he closed the letter, saying "hello" to his young brother Benny and asking for a package of "dago" bread, pepperoni and hot pepper cheese to be sent to his new address.
Service Years
As a kid, "When I was in the service" was a phrase that started many stories that he told me. Only fragments of most of those memories remain, but it was clear that those eight years in the Air Force were a very special time in his life. Accompanied by an over-stuffed envelope of old photos, tales of adventures in Europe and life long friendships were passed on from father to son. I was always fascinated with the physical props -- patches, medals, dog tags -- and the special way he taught me to memorize his service number.
For my father, and many young men of the 1950s, serving in the military was the equivalent of college. He went straight from high school to the Sampson Air Force Base training facility in Geneva, New York. Graduating from Sampson with Flight 3192 just after his 18th birthday, it was on to mechanics school in Texas and within a year he was on duty overseas in Germany.
By 1958, he was reassigned to Pease Air Force Base in New Hampshire, where he was a crewman on Strategic Air Command B-47 missions to Spain and England. After four years at Pease, he retired from the Air Force in 1962.
I was about 7 or 8 years old when my father gave me his medals, dog tags, patches, and other insignia from his service in the Air Force. Those items were always some of my most cherished possessions, but somewhere along the way, they were all lost.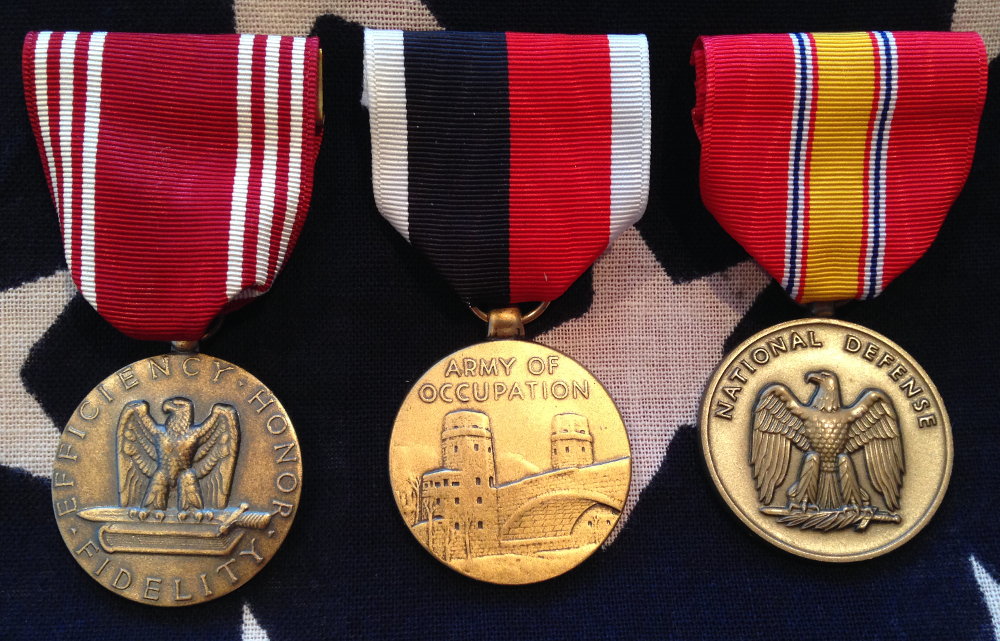 When I contacted the National Archives to obtain my father's service records, I received word that they (and those of many other Cold War era veterans) were destroyed by a 1973 fire. While it was disappointing to not be able to get the records, I discovered that the military offers replacement medals, so I was able to restore some of the items I had lost. Here are the Good Conduct, Army of Occupation, and National Defense medals awarded to Joseph S. Siragusa, USAF, 1954-1962. (-JS, March 2014)
Early Life
As the nation was emerging from the Great Depression under the leadership of FDR, a young couple living on the north side of Watertown (826 LeRay Street) welcomed a second child, born a few days before Easter 1936. He was given the name Joseph James Siragusa, the same as his father (Source: Watertown, New York birth certificate). At some point, presumably at baptism, his middle name was changed to Samuel -- a tribute to his grandfather, Sam Denny.
He grew up with his older brother Charlie at his side and as the family grew with sisters Patricia and Nancy, and the youngest brother Ben, they would move to Arsenal Street -- first in a rental house and eventually to the family home at 423 Arsenal, which would be the backdrop for dozens of photos through the years.
A Family of His Own
As his time in the service was coming to an end, he met a young Elaine Majo (at a popular spot for night life on Washington Street in Watertown, as I recall being told) and in May 1964 they were married at Holy Family Church. He worked as a salesman for Augsbury Oil Company in Sackets Harbor and eventually gained employment with the New York State Department of Transportation where years of physical work sandblasting and painting bridges across Northern New York would take their toll on his health.
In 1967, Joe and Elaine started a family as a son was born and named after his father. Quickly outgrowing their apartment on East Lynde Street, they set out to build their own little part of the American dream. Finding a vacant lot close by on East Hoard Street, construction of their new home began in the summer of 1970. Some of my earliest memories are going to the new house with my parents as they were finishing up interior work in the evenings after work just before completion of the split level home situated across the street from North Junior High School.
Life was good at 208 East Hoard Street -- swimming in the pool, backyard cookouts, gardening, meticulously washing the car in the driveway, all of the comforts of suburbia. It was easy to see how much of a symbol of pride that modest house was and what it meant to my father. Perhaps it was all driven by the success of his own father, or maybe it was as simple as living life and providing for his family. Despite the many happy times, Joe and Elaine's relationship became strained and they would separate in 1976 and ultimately divorce early the next year.
The divorce brought different addresses and family dynamics, but I'll always remember the weekends spent with my father in those years. Whether we were golfing at Bedford Creek, bowling, boating on the St. Lawrence or reviewing his latest stamp collection purchases, it was the time spent together that was important and creating the memories that remain today.
On Palm Sunday 1980, one week before his 44th birthday, his life came to a tragic end at his own hand.