Raymond Frederick Slate
9 October 1880 - 11 August 1934
My Great Grandfather
Raymond Slate was the second child of Nathaniel Slate and Loretta Card, born in Cape Vincent, New York in the fall of 1880*.
On Christmas day in 1901, he married Lottie Boyer of New Bremen. They would go on to have a very large family of six daughters and two sons.
Raymond began a railroading career in 1898 and rose to the position of locomotive engineer. Health issues forced him to retire in June 1934 and he passed away two months later while camping at Chippewa Bay.
The (poor quality) photo on the right is the only one I have of Raymond. It is from a larger family portrait, likely taken sometime in the mid 1920s.
Here's a timeline of significant dates in his life:
1900
The first census in which Raymond appears is as an 18-year-old in 1900. At this time he is living with his parents and two of his brothers in Hammond, New York. Note that this document indicates he was born in October of 1881 -- a date that could be considered the most reliable as it is the oldest known record (to this point). Until something official is found, I have used the 1880 from his gravestone as his birth year.

On December 25, 1900, Raymond Slate married Lottie Boyer. The ceremony was performed by Reverend Shaffer in Redwood, New York.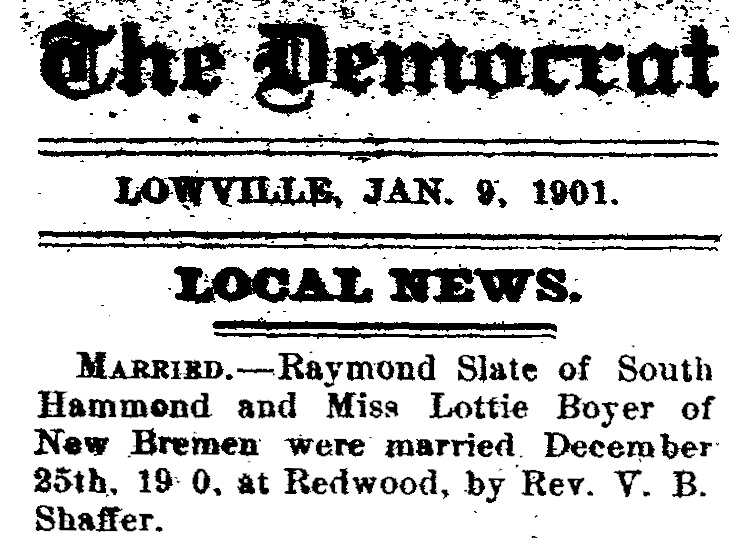 1910
In 1910, Raymond and Lottie are living on North Meadow Street in Watertown with their children Hazel, Harold and Raymond, Jr.

1917
Tragedy struck on the evening of September 19, 1917 when a 25-year-old woman, Mrs. Irene Jackson, was struck and killed at a Water Street railroad crossing in Watertown by a train that was being driven by Raymond Slate.
1918
As required by law, Raymond Slate registered for the draft during World War I. Due to his age, he was in the third round of registrations that took place between June 1917 and June 1918.
The two points of interest in this document are Raymond's date of birth and his name. 1882 conflicts with the earlier 1881 noted on the 1900 census. This is also the first (and only) time that I have seen his first and middle names listed as Frederick Raymond, instead of Raymond Frederick.
1920
By 1920, the Slate family had relocated to Chaumont and are living on Main Street in the village. At this point Raymond and Lottie's children range in age from Hazel at 17 to Doris at 1-and-a-half. Hazel married Floyd Benney in October of 1920 and Raymond and Lottie's final child, Ila, would be born in April of the following year.
1924
A November 1923 fight between Raymond Slate and fellow Chaumont resident David Backes resulted in a pair of assault trials against Backes. The first resulted in a mistrial and the second with a hung jury. In November of 1924, Judge LaRue declined to hear the case a third time and dismissed the charges. The account was reported in a February 5, 1924 article in the Watertown Daily Standard.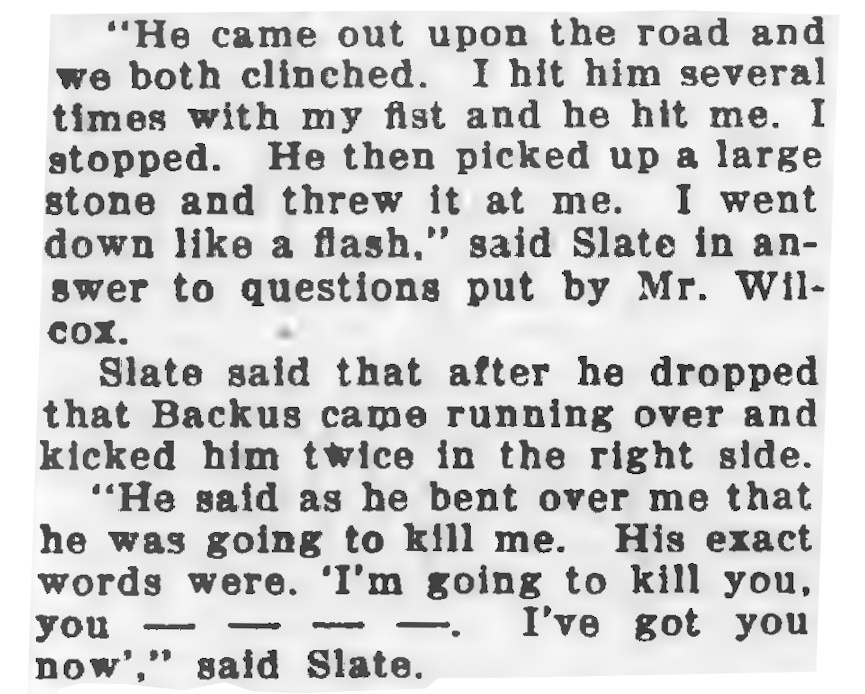 1930
There's still a large family (six children) at home on North Chaumont Creek Road with Raymond and Lottie at the time of the 1930 census.
1934
In June 1934, Raymond retired from the New York Central Raildroad Company due to poor health. Just a couple months later, while camping at Chippewa Bay, Raymond Slate died of heart attack on August 11th at the age of 54.

Raymond F. Slate
|
Lottie Boyer
(married 1900)
|
Hazel (1902-1959) • Harold (1907-1970) • Frederick (1908-1978) • Ethel (1911-1989) • Ida (1913-1985) • Gladys (1914-1968) • Doris (1918-1998) • Ila (1921-1993)
* No official documentation has been found for Raymond's 1880 birth year. There are many conflicting secondary sources such as 1879 in his obituary, 1881 on the 1900 census, 1882 on a draft registration card and 1880 on his gravestone.